1775 1st ed Annals of Maria Theresa HAPSBURG Austria Hungary Holy Roman Empire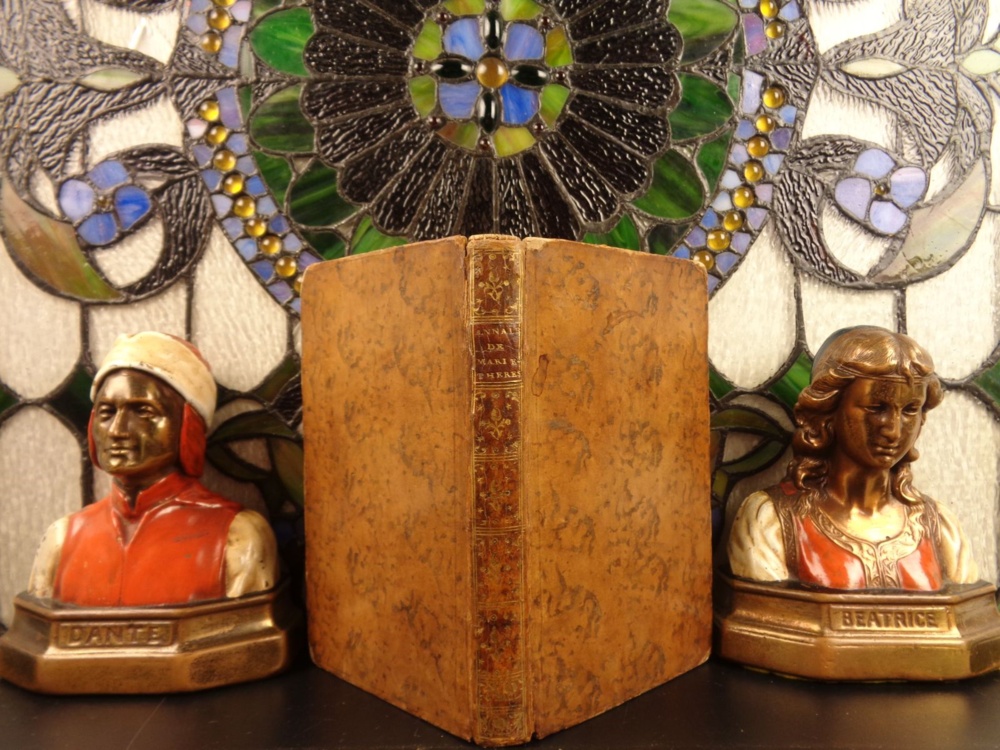 $499.00
In stock
Free shipping wordwide!
---
Satisfaction Guaranteed
A fine 18th-century work on Maria Theresa of the Holy Roman Empire illustrated with full-page engravings.
Maria Theresa Walburga Amalia Christina (1717 – 1780) was the only female ruler of the Habsburg dominions and the last of the House of Habsburg. She was the sovereign of Austria, Hungary, Croatia, Bohemia, Transylvania, Mantua, Milan, Lodomeria and Galicia, the Austrian Netherlands and Parma. By marriage, she was Duchess of Lorraine, Grand Duchess of Tuscany and Holy Roman Empress.
We find this same book for sale elsewhere for $800!
$499.00
In stock
Free shipping wordwide!
---
Satisfaction Guaranteed
Image Gallery
Description & Details
1775 1st ed Annals of Maria Theresa HAPSBURG Austria Hungary Holy Roman Empire
A fine 18th-century work on Maria Theresa of the Holy Roman Empire illustrated with full-page engravings.
Maria Theresa Walburga Amalia Christina (1717 – 1780) was the only female ruler of the Habsburg dominions and the last of the House of Habsburg. She was the sovereign of Austria, Hungary, Croatia, Bohemia, Transylvania, Mantua, Milan, Lodomeria and Galicia, the Austrian Netherlands and Parma. By marriage, she was Duchess of Lorraine, Grand Duchess of Tuscany and Holy Roman Empress.
We find this same book for sale elsewhere for $800!
Main author: Fromageot, Pierre; Joseph Ducreux; LJ Cathelin; JMM Moreau le Jeune
Title: Annales du regne de Marie-Thérese, impératrice douairiere, reine de Hongrie & de Bohême, archiduchesse d'Autriche, &c. &c. &c. …
Published: Paris, chez Prault, 1775.
Language: French
Notes & contents:
Illustrated half-title, color
4 full-page copper engravings
Frontispiece of Marie Theresa
Title page vignette
FREE SHIPPING WORLDWIDE
Wear: wear as seen in photos
Binding: tight and secure leather binding
Pages: complete with all 337 pages; plus indexes, prefaces, and such
Publisher: Paris, chez Prault, 1775.
Size: ~8in X 5in (20cm x 12.5cm)
FREE SHIPPING WORLDWIDE
Shipping:
Very Fast. Very Safe. Free Shipping Worldwide.
Satisfaction Guarantee:
Customer satisfaction is our first priority. Notify us within 7 days of receiving your item and we will offer a full refund guarantee without reservation.
$499
Maria Theresa Walburga Amalia Christina[1] (German: Maria Theresia [maˈʁiːa teˈʁeːzi̯a]; 13 May 1717 – 29 November 1780) was the only female ruler of the Habsburg dominions and the last of the House of Habsburg. She was the sovereign of Austria, Hungary, Croatia, Bohemia, Transylvania, Mantua, Milan, Lodomeria and Galicia, the Austrian Netherlands and Parma. By marriage, she was Duchess of Lorraine, Grand Duchess of Tuscany and Holy Roman Empress.[2]
She started her 40-year reign when her father, Emperor Charles VI, died in October 1740. Charles VI paved the way for her accession with the Pragmatic Sanction of 1713 and spent his entire reign securing it.[3] Upon the death of her father, Saxony, Prussia, Bavaria, and France all repudiated the sanction they had recognised during his lifetime. Prussia proceeded to invade the affluent Habsburg province of Silesia, sparking a nine-year conflict known as the War of the Austrian Succession, and subsequently conquered it. Maria Theresa would later unsuccessfully try to reconquer Silesia during the Seven Years' War.
Maria Theresa and her husband, Francis I, Holy Roman Emperor, had sixteen children, including the Queen of France, the Queen of Naples and Sicily, the Duchess of Parma and two Holy Roman Emperors, Joseph II and Leopold II. Of the sixteen, ten survived to adulthood. She had eleven daughters and five sons. Though she was expected to cede power to Francis and Joseph, both of whom were officially her co-rulers in Austria and Bohemia,[4] Maria Theresa was the absolute sovereign who ruled by the counsel of her advisers.[5] She criticised and disapproved of many of Joseph's actions. Although she is considered to have been intellectually inferior to both Joseph and Leopold,[5] Maria Theresa understood the importance of her public persona and was able to simultaneously evoke both esteem and affection from her subjects.[6]
Maria Theresa promulgated financial and educational reforms, with the assistance of Count Friedrich Wilhelm von Haugwitz and Gerard van Swieten, promoted commerce and the development of agriculture, and reorganised Austria's ramshackle military, all of which strengthened Austria's international standing. However, she refused to allow religious toleration[7] and contemporaneous travellers thought her regime was bigoted and superstitious.[8] As a young monarch who fought two dynastic wars, she believed that her cause should be the cause of her subjects, but in her later years she would believe that their cause must be hers.[9]
Contents  [hide]
1              Birth and background
2              Early life
3              Marriage
4              Accession
5              War of the Austrian Succession
6              Seven Years' War
7              Family life
7.1          Issue
8              Religious views and policies
8.1          Jesuits
8.2          Jews and Protestants
9              Reforms
9.1          Medicine
9.2          Civil rights
9.3          Church
9.4          Education
10           Late reign
11           Death and legacy
12           Full title
13           Ancestry
14           Popular culture
15           See also
16           References
17           Bibliography
18           External links
Birth and background[edit]
Three-year-old Maria Theresa in the gardens of Hofburg Palace
The second and eldest surviving child of Holy Roman Emperor Charles VI and Elisabeth Christine of Brunswick-Wolfenbüttel, Archduchess Maria Theresa was born early in the morning of 13 May 1717, at the Hofburg Palace, Vienna, shortly after the death of her elder brother, Archduke Leopold, and was baptised on that same evening. The dowager empresses, her aunt Wilhelmine Amalia of Brunswick-Lüneburg and grandmother Eleonor Magdalene of the Palatinate-Neuburg, were her godmothers.[10] Most descriptions of her baptism stress that the infant was carried ahead of her cousins, Maria Josepha and Maria Amalia, the daughters of Charles VI's elder brother and predecessor, Joseph I, before the eyes of their mother, Wilhelmine Amalia. It was clear that Maria Theresa would outrank them, even though their grandfather, Holy Roman Emperor Leopold I, had his sons sign the Mutual Pact of Succession, which gave precedence to the daughters of the elder brother.[11][12] Her father was the only surviving male member of the House of Habsburg and hoped for a son who would prevent the extinction of his dynasty and succeed him. Thus, the birth of Maria Theresa was a great disappointment to him and the people of Vienna; Charles never managed to overcome this feeling.[13][14]
Maria Theresa replaced Maria Josepha as heiress presumptive to the Habsburg realms the moment she was born; Charles VI had issued the Pragmatic Sanction of 1713 which had placed his nieces behind his own daughters in the line of succession.[15] Charles sought the other European powers' approval for disinheriting his nieces. They exacted harsh terms: in the Treaty of Vienna (1731), Great Britain demanded that Austria abolish the Ostend Company in return for its recognition of the Pragmatic Sanction.[16] In total, Great Britain, France, Saxony-Poland, United Provinces, Spain,[17] Venice,[18] States of the Church,[18] Prussia,[19] Russia,[18] Denmark,[19] Savoy-Sardinia,[19] Bavaria[19] and the Diet of the Holy Roman Empire[19] recognised the sanction. France, Spain, Saxony-Poland, Bavaria and Prussia later reneged.
Early life[edit]
Archduchess Maria Theresa in 1729,[20] by Andreas Möller. The flowers which she carries in the uplifted folds of her dress represent her fertility and expectations to bear children in adulthood.[21]
Little more than a year after her birth, Maria Theresa was joined by a sister, Maria Anna, and another one, named Maria Amalia, was born in 1724.[22] The portraits of the imperial family show that Maria Theresa resembled Elisabeth Christine and Maria Anna.[23] The Prussian ambassador noted that she had large blue eyes, fair hair with a slight tinge of red, a wide mouth and a notably strong body.[9][24] Unlike many other members of the House of Habsburg, neither Maria Theresa's parents nor her grandparents were closely related to each other.[25]
Maria Theresa was a serious and reserved child who enjoyed singing and archery.[26] She was barred from horse riding by her father, but she would later learn the basics for the sake of her Hungarian coronation ceremony. The imperial family staged opera productions, often conducted by Charles VI, in which she relished participating.[27] Her education was overseen by Jesuits. Contemporaries thought her Latin to be quite good, but in all else, the Jesuits did not educate her well. Her spelling and punctuation were unconventional and she lacked the formal manner and speech which had characterized her Habsburg predecessors.[28] Maria Theresa developed a close relationship with Countess Marie Karoline von Fuchs-Mollard, who taught her etiquette. She was educated in drawing, painting, music and dancing – the disciplines which would have prepared her for the role of queen consort.[29] Her father allowed her to attend meetings of the council from the age of 14 but never discussed the affairs of state with her.[30] Even though he had spent the last decades of his life securing Maria Theresa's inheritance, Charles always expected a son and never prepared his daughter for her future role as sovereign.[31][32]
Marriage[edit]
Maria Theresa and Francis Stephen at their wedding breakfast, by Martin van Meytens.
The question of Maria Theresa's marriage was raised early in her childhood. She was first engaged to be married to Leopold Clement of Lorraine, who was supposed to visit Vienna and meet the Archduchess in 1723. However, news reached Vienna that he had died of smallpox.[33]
Leopold Clement's younger brother, Francis Stephen, was invited to Vienna. Even though Francis Stephen was his favourite candidate for Maria Theresa's hand,[34] the Emperor considered other possibilities. Religious differences prevented him from arranging his daughter's marriage to the Calvinist prince Frederick of Prussia. In 1725, he betrothed her to Charles of Spain and her sister, Maria Anna, to Philip of Spain. However, other European powers compelled him to renounce the pact he had made with the Queen of Spain, Elisabeth Farnese, as the marriage of heirs to the thrones of Spain and Austria would have destroyed the European balance of power. Maria Theresa, who had become close to Francis Stephen, was relieved.[35][36]
Francis Stephen remained at the imperial court until 1729, when he ascended the throne of Lorraine,[37] but was not formally promised Maria Theresa's hand until 31 January 1736, during the War of the Polish Succession.[38] Louis XV of France demanded that Maria Theresa's fiancé surrender his ancestral Duchy of Lorraine to accommodate his father-in-law, Stanisław I, who had been deposed as King of Poland.[39] Francis Stephen was to receive the Grand Duchy of Tuscany upon the death of childless Grand Duke Gian Gastone de' Medici.[40] The couple were married on 12 February 1736.[41]
The Duchess of Lorraine's love for her husband was strong and possessive.[42][43] The letters she sent to him shortly before their marriage expressed her eagerness to see him; his letters, on the other hand, were stereotyped and formal.[44][45] She was very jealous of her husband and his infidelity was the greatest problem of their marriage,[46][47] with Maria Wilhelmina, Princess of Auersperg, as his best-known mistress.[48][49][50]
Upon Gian Gastone's death on 9 July 1737, Francis Stephen ceded Lorraine and became Grand Duke of Tuscany. In 1738, Charles VI sent the young couple to make their formal entry into Tuscany. A triumphal arch was erected at the Porta Galla in celebration, where it remains today. Their stay in Florence was brief. Charles VI soon recalled them, as he feared he might die while his heiress was miles away in Tuscany.[51] In the summer of 1738, Austria suffered defeats during the ongoing Russo-Turkish War. The Turks reversed Austrian gains in Serbia, Wallachia and Bosnia. The Viennese rioted at the cost of the war. Francis Stephen was popularly despised, as he was thought to be a cowardly French spy.[51] The war was concluded the next year with the Treaty of Belgrade.
Accession[edit]
Maria Theresa's procession through the Graben, 22 November 1740. The pregnant queen is on way to hear High Mass at St. Stephen's Cathedral before receiving homage.[52]
Charles VI died on 20 October 1740, probably of mushroom poisoning. He had ignored the advice of Prince Eugene of Savoy who had urged him to concentrate on filling the treasury and equipping the army rather than on acquiring signatures of fellow monarchs.[15] The Emperor, who spent his entire reign securing the Pragmatic Sanction, left Austria in an impoverished state, bankrupted by the recent Turkish war and the War of the Polish Succession;[53] the treasury contained only 100,000 florins, which were claimed by his widow.[54] The army numbered only 80,000 men, most of whom had not been paid in months; they were nevertheless remarkably loyal and devoted to their new sovereign.[55][56]
Maria Theresa found herself in a difficult situation. She did not know enough about matters of state and she was unaware of the weakness of her father's ministers. She decided to rely on her father's advice to retain his councillors and defer to her husband, whom she considered to be more experienced, on other matters. Both decisions, though natural, later gave cause for regret. Ten years later, Maria Theresa recalled in her Political Testament the circumstances under which she had ascended: "I found myself without money, without credit, without army, without experience and knowledge of my own and finally, also without any counsel because each one of them at first wanted to wait and see how things would develop."[32][57]
She dismissed the possibility that other countries might try to seize her territories and immediately started ensuring the imperial dignity for herself;[58] since a woman could not be elected Holy Roman Empress, Maria Theresa wanted to secure the imperial office for her husband. However, Francis Stephen did not possess enough land or rank within the Holy Roman Empire.[59] In order to make him eligible for the imperial throne and to enable him to vote in the imperial elections as elector of Bohemia (which she couldn't because of her sex), Maria Theresa made Francis Stephen co-ruler of the Austrian and Bohemian lands on 21 November 1740.[60] However, it took more than a year for the Diet of Hungary to accept Francis Stephen as co-ruler.[61][62] Despite her love for him and his position as co-ruler, Maria Theresa never allowed her husband to decide matters of state and often dismissed him from council meetings when they disagreed.[63]
The first display of the new queen's authority was the formal act of homage of the Lower Austrian Estates to her on 22 November 1740. It was an elaborate public event which served as a formal recognition and legitimation of her accession. The oath of fealty to Maria Theresa was taken on the same day in Hofburg.[52]
War of the Austrian Succession[edit]
Main article: War of the Austrian Succession
Maria Theresa being crowned Queen of Hungary, St. Martin's Cathedral, Pressburg.
Immediately after her accession, a number of European sovereigns who had recognised Maria Theresa as heiress broke their promises; Queen Elisabeth of Spain and Elector Charles Albert of Bavaria, married to Maria Theresa's deprived cousin Maria Amalia and supported by Empress Wilhelmine Amalia, wanted portions of her inheritance.[54] Maria Theresa secured the recognition of King Charles Emmanuel III of Sardinia, who hadn't accepted the Pragmatic Sanction during her father's lifetime, in November 1740.[61]
In December, King Frederick II of Prussia invaded the Duchy of Silesia and requested that Maria Theresa cede it, threatening to join her enemies if she refused. Maria Theresa decided to fight for the mineral-rich province.[64] Frederick even offered a compromise: he would defend Maria Theresa's rights if she agreed to cede him at least a part of Silesia. Francis Stephen was inclined to consider such an arrangement, but the Queen and her advisers were not, fearing that any violation of the Pragmatic Sanction would invalidate the entire document.[65] Maria Theresa's firmness soon assured Francis Stephen that they should fight for Silesia[66] and she was confident that she would retain "the jewel of the House of Austria".[67] The invasion of Silesia by Frederick was the start of a lifelong enmity; she referred to him as "that evil man".
Category
European History
Authors
Fromageot, Pierre Joseph Ducreux LJ Cathelin JMM Moreau le Jeune
Printing Date
18th Century