1860 Aaron BURR Politics Americana Alexander Hamilton Jefferson Revolutionary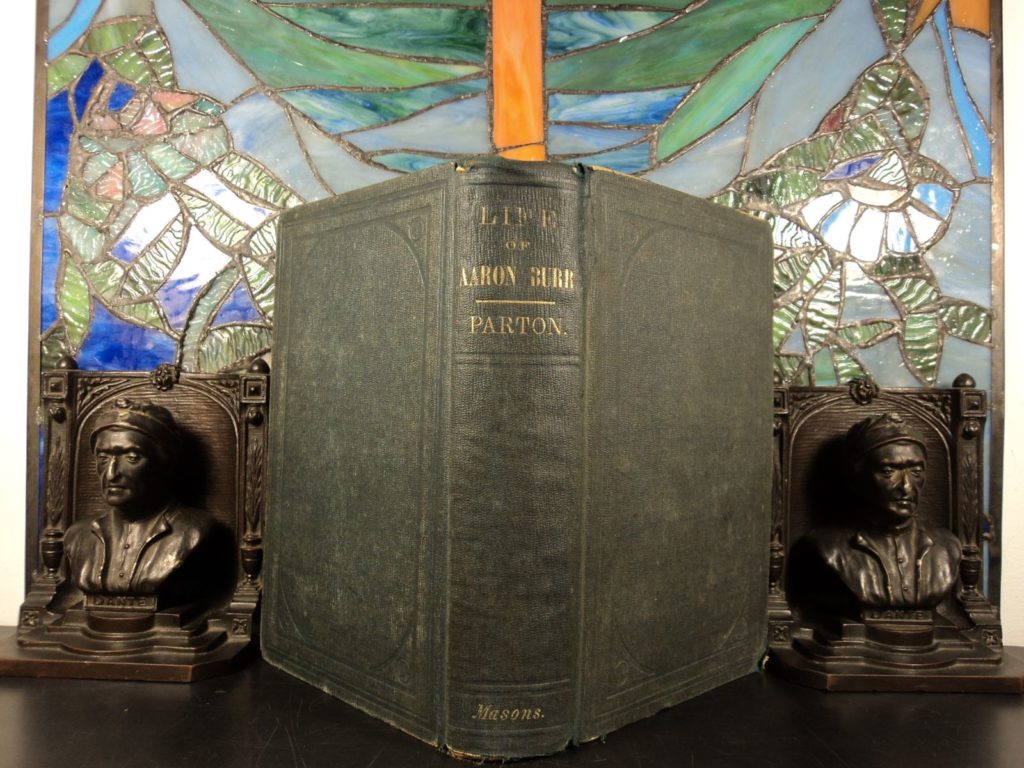 $250.00
In stock
Free shipping wordwide!
---
Satisfaction Guaranteed
19th-century book on the life of Aaron Burr.
Aaron Burr Jr. (1756 – 1836) was an American politician. He was the third Vice President of the United States (1801–1805), serving during President Thomas Jefferson's first term.
$250.00
In stock
Free shipping wordwide!
---
Satisfaction Guaranteed
Image Gallery
Description & Details
1860 Aaron BURR Politics Americana Alexander Hamilton Jefferson Revolutionary
19th-century book on the life of Aaron Burr.
Aaron Burr Jr. (1756 – 1836) was an American politician. He was the third Vice President of the United States (1801–1805), serving during President Thomas Jefferson's first term.
Main author: James Parton
Title: The life and times of Aaron Burr : lieutenant-colonel in the Army of the Revolution, United States senator, vice-president of the United States, etc.
Published: New York : Mason Bros. …, 1860.
Language: English
Notes & content:
Illustrated with 3 full-page engravings and 2 portraits
FREE SHIPPING WORLDWIDE
Wear: wear as seen in photos
Binding: tight and secure fine leather binding
Pages: complete with all 706 pages; plus indexes, prefaces, and such
Illustrations: 5 illustrations
Publisher: New York : Mason Bros. …, 1860.
Size: ~8in X 6in (20cm x 15cm)
FREE SHIPPING WORLDWIDE
Shipping:
Very Fast. Very Safe. Free Shipping Worldwide.
Satisfaction Guarantee:
Customer satisfaction is our first priority. Notify us within 7 days of receiving your item and we will offer a full refund guarantee without reservation.
$250
Aaron Burr Jr. (February 6, 1756 – September 14, 1836) was an American politician. He was the third Vice President of the United States (1801–1805), serving during President Thomas Jefferson's first term.
After serving as a Continental Army officer in the Revolutionary War, Burr became a successful lawyer and politician. He was elected twice to the New York State Assembly (1784–1785, 1798–1799),[1] was appointed New York state attorney general (1789–1791), was chosen as a United States senator (1791–1797) from the state of New York, and reached the apex of his career as vice president.
The highlight of Burr's tenure as president of the senate (one of his few official duties as vice president) was the Senate's first impeachment trial, of Supreme Court justice Samuel Chase. In 1804, the last full year of his single term as vice president, Burr killed his political rival Alexander Hamilton, whom he had once rescued during the Revolutionary War, in a famous duel. Burr was never tried for the illegal duel, and all charges against him were eventually dropped, but Hamilton's death ended Burr's political career.
After leaving Washington, Burr traveled west seeking new opportunities, both economic and political. His activities eventually led to his arrest on charges of treason in 1807. Although the subsequent trial resulted in acquittal, Burr's western schemes left him with large debts and few influential friends. In a final quest for grand opportunities, he left the United States for Europe. He remained overseas until 1812, when he returned to the United States to practice law in New York City. There he spent the rest of his life in relative obscurity.
Contents  [hide]
1              Early life
1.1          Revolutionary War
2              First marriage and family
3              Politics
3.1          Legal and early political career
3.2          Vice presidency
3.3          Duel with Alexander Hamilton
3.4          Conspiracy and trial
4              Later life and death
5              Character
6              Legacy
7              Representation in literature and popular culture
8              Notes
9              References
10           Further reading
11           External links
Early life
Burr's maternal grandfather, Jonathan Edwards
Aaron Burr Jr. was born in Newark, New Jersey, in 1756 as the second child of the Reverend Aaron Burr Sr., a Presbyterian minister and second president of the College of New Jersey in Newark (which moved in 1756 to Princeton and later became Princeton University). His mother, Esther Burr (née Edwards), was the daughter of Jonathan Edwards, the noted Calvinist theologian, and his wife Sarah.[2] Burr had an older sister Sarah ("Sally"), named for her maternal grandmother. She later married Tapping Reeve, founder of the Litchfield Law School in Litchfield, Connecticut.
Aaron Burr's father died in 1757, and his mother the following year, leaving him and his sister orphans. Burr was two years old. He and his sister had first lived with their maternal grandparents, but Sarah Edwards also died in 1757, and Jonathan Edwards in 1758. Young Aaron and his sister Sally were placed with the William Shippen family in Philadelphia. In 1759, the children's guardianship was assumed by their 21-year-old maternal uncle Timothy Edwards. The next year, Edwards married Rhoda Ogden and moved with the children to Elizabeth, New Jersey, near her family. Rhoda's younger brothers Aaron Ogden and Matthias Ogden became the boy's playmates. The three boys, along with their neighbor Jonathan Dayton, formed a group of friends that lasted their lifetimes.
After being rejected once at age 11, Aaron Burr was admitted to the sophomore class of College of New Jersey at the age of 13. (Such schools were also like academies). Aside from being occupied with intensive studies, he was a part of the American Whig Society and Cliosophic Society, the two clubs the college had to offer at the time. He received his Bachelor of Arts degree in 1772 at age 16. He studied theology for an additional year, before rigorous theological training with Joseph Bellamy, a Presbyterian. He changed his career path two years later. At age 19, he moved to Connecticut to study law with his brother-in-law Tapping Reeve, his sister Sally's husband.[3] When, in 1775, news reached Litchfield of the clashes with British troops at Lexington and Concord, Burr put his studies on hold and enlisted in the Continental Army.
Revolutionary War
During the Revolutionary War, Burr took part in Colonel Benedict Arnold's expedition to Quebec, an arduous trek of more than 300 miles (480 km) through the frontier of what is now Maine. When their forces reached the city of Quebec, Arnold, deeply impressed by Burr's "great spirit and resolution" during the long march, sent Burr up the Saint Lawrence River to contact General Richard Montgomery, who had taken Montreal, and escort him to Quebec. Montgomery then promoted Burr to captain and made him an aide-de-camp. Burr distinguished himself during the Battle of Quebec, where he was rumored to have attempted to recover Montgomery's corpse after the General had been shot.[4]
In the spring of 1776, Burr's stepbrother Mathias Ogden had helped Burr secure a place on George Washington's staff in Manhattan. However, Burr quit within two weeks on June 26, wanting to be on the battlefield; there was more honor to be found in that area than in the "insular world of the commander's staff."[5] General Israel Putnam took Burr under his wing; by his vigilance in the retreat from lower Manhattan to Harlem, Burr saved an entire brigade (including Alexander Hamilton, who was one of its officers) from capture after the British landing on Manhattan.[2] In a departure from common practice, Washington failed to commend Burr's actions in the next day's General Orders (the fastest way to obtain a promotion in rank). Although Burr was already a nationally known hero, he never received a commendation. According to Ogden, Burr was infuriated by the incident, which may have led to the eventual estrangement between him and Washington.[6][7] And yet, Burr defended Washington's decision to evacuate New York as "a necessary consequence." It would not be until the 1790s, in the realm of politics, that the two men found themselves on opposite sides.[8]
On being promoted to lieutenant colonel in July 1777, Burr assumed virtual leadership of Malcolm's Additional Continental Regiment. There were approximately 300 men under Colonel William Malcolm's nominal command. The regiment successfully fought off many nighttime raids into central New Jersey by British troops arriving by water from Manhattan. Later that year, during the harsh winter encampment at Valley Forge, Burr commanded a small contingent guarding "the Gulf," an isolated pass that controlled one approach to the camp. Burr imposed discipline, defeating an attempted mutiny by some of the troops.[9]
On June 28, 1778, at the Battle of Monmouth in New Jersey, Burr's regiment was devastated by British artillery, and in the day's heat, Burr suffered heat stroke.[10] In January 1779 Burr, in command of Malcolm's Regiment, was assigned to Westchester County, a region between the British post at Kingsbridge and that of the Americans about 15 miles (24 km) to the north. In this district, part of the larger command of General Alexander McDougall, there was much turbulence and plundering by lawless bands of rebel or loyalist sympathizers, and by raiding parties of ill-disciplined soldiers from both armies.[11]
Burr resigned from the Continental Army in March 1779 due to his continuing bad health and renewed his study of law. Though technically no longer in the service, Burr remained active in the war: he was assigned by General Washington to perform occasional intelligence missions for Continental generals such as Arthur St. Clair. On July 5, 1779, he rallied a group of Yale students at New Haven along with Captain James Hillhouse and the Second Connecticut Governors Foot Guard, in a skirmish with the British at the West River. The British advance was repulsed, forcing them to enter New Haven from Hamden.
Despite these activities, Burr finished his studies and was admitted to the bar at Albany in 1782. That year he married and began to practice in New York City after the British evacuated the city the following year. He and his wife lived for the next several years in a house on Wall Street in Lower Manhattan.[12]
First marriage and family
In 1782, Aaron Burr married Theodosia Bartow Prevost (1746–1794), a widow with five children who was ten years his senior, and lived with her in Philadelphia. Her first husband was Jacques Marcus Prevost (see The Hermitage), a British Army officer of Swiss origin. He died in the West Indies during the Revolutionary War. Theodosia died of stomach cancer in 1794.
The Burrs' daughter Theodosia, born in 1783 and named after her mother, was their only child to survive to adulthood. Burr prescribed education for his daughter in the classics, language, horsemanship and music. The younger Theodosia Burr became widely known for her education and accomplishments. In 1801, she married Joseph Alston of South Carolina.[2] They had a son together, who died of fever at ten years of age. During the winter of 1812–1813, Theodosia was lost with the schooner Patriot off The Carolinas, either murdered by pirates or shipwrecked in a storm.
Aaron Burr fathered two illegitimate children, Louisa Charlotte Burr (c.1788–1878) and John (Jean) Pierre Burr (1792–1864), by Mary Emmons, aka Eugénie Beauharnais, an East Indian woman said to be from Calcutta who worked as a servant in Burr's household.[13][14] Mary/Eugénie was said to have lived and worked in Saint-Domingue before being brought to Philadelphia;[13] an early source said that she was born there.[15] John Pierre Burr was an active member of Philadelphia's Underground Railroad, served as an agent for the abolitionist newspaper, The Liberator, worked in the National Black Convention movement, and served as Chairman of the American Moral Reform Society.[15][16] Louisa Charlotte Burr married Francis Webb (1788–1829), a founding member of the Pennsylvania Augustine Education Society, secretary of the Haytien Emigration Society formed in 1824, and distributor of Freedom's Journal from 1827–1829.[14] Aaron Burr's grandson, Frank J. Webb, wrote the second African American novel, The Garies and Their Friends, published in 1857.[14]
Politics
Legal and early political career
Burr served in the New York State Assembly from 1784 to 1785. He became seriously involved in politics in 1789, when George Clinton appointed him as New York State Attorney General. He was also Commissioner of Revolutionary War Claims in 1791. In 1791, he was elected by the legislature as a U.S. Senator from New York, defeating the incumbent, General Philip Schuyler. He served in the Senate until 1797.
Burr ran for president in the 1796 election, coming in fourth with 30 votes behind John Adams, Thomas Jefferson, and Thomas Pinckney. (At the time members of the electoral college cast two ballots but did not specify an office. The first-place finisher overall became president and the runner up vice president. They did not run on a 'ticket' and were often opponents.) Burr was shocked by his defeat, as he believed he had arranged with Jefferson's supporters for their vote for him as well, in exchange for Burr's working to obtain New York's electoral votes for Jefferson. But many Democratic-Republican electors voted for Jefferson and no one else, or for Jefferson and a candidate other than Burr.[17]
During the next presidential election of 1800, Jefferson and Burr were again candidates for president and vice president. Jefferson ran with Burr in exchange for the latter's working to obtain New York's electoral votes for Jefferson.[17]
Burr was active in various Democratic clubs and societies. "Aaron Burr defended the democratic clubs and was listed as a member of the New York Democratic Society in 1798."[18] Although Alexander Hamilton and Burr had long been on good personal terms, often dining with one another,[19][page needed] Burr's defeat of General Schuyler, Hamilton's father-in-law, probably drove the first major wedge into their friendship.[20] Their relationship declined over the following decade. (See the Burr–Hamilton duel article for further details.)
After being appointed commanding general of U.S. forces by President John Adams in 1798, Washington turned down Burr's application for a brigadier general's commission during the Quasi-War with France. Washington wrote, "By all that I have known and heard, Colonel Burr is a brave and able officer, but the question is whether he has not equal talents at intrigue."[21] John Adams, whose enmity toward Alexander Hamilton was legendary, later wrote in 1815 that Washington's response was startling given his promotion of Hamilton, whom he described as
the most restless, impatient, artful, indefatigable, and unprincipled intriguer in the United States, if not in the world, to be second in command under himself, and now [Washington] dreaded an intriguer in a poor brigadier.[22]
Bored with the inactivity of the new U.S. Senate,[19][page needed] Burr ran for and was elected to the New York State Assembly, serving from 1798 through 1799.[1] During this time, he cooperated with the Holland Land Company in gaining passage of a law to permit aliens to hold and convey lands.[23][page needed] During John Adams' term as president, national parties became clearly defined. Burr loosely associated with the Democratic-Republicans, though he had moderate Federalist allies, such as Sen. Jonathan Dayton of New Jersey. Burr quickly became a key player in New York politics, more powerful in time than Hamilton. This was due largely to the power of the Tammany Society, later to become the infamous Tammany Hall. Burr converted it from a social club into a political machine, particularly in populous New York City, to help Jefferson reach the presidency.
In 1799, Burr founded the Bank of the Manhattan Company. In later years, it was absorbed into the Chase Manhattan Bank, which in turn became part of JPMorgan Chase. In September 1799, Burr fought a duel with John Barker Church, whose wife was the sister of Hamilton's wife. Church had alleged that Burr had taken a bribe from the Holland Company in exchange for using his political influence on its behalf. Burr and Church fired at each other and missed, and afterward Church acknowledged that he was wrong to have accused Burr without having proof. Burr accepted this as an apology, and the two men shook hands and ended the dispute
Categories
Americana, American History
Law & Government
Military & War
Printing Date
19th Century